What is the Magic Bag?
Edit
When you turn magic bag on, all items which you gather in the tower fields automatically go into your bag. There is no need to waste valuable time fussing with your items as you move, just a smooth journey forward.

Turn ON/OFF the Magic Bag function from the game's context menu (Windows/right-click and Mac/control + click).
When the Magic Bag is ON, items you gather in the tower fields automatically go to your Magic Bag and not to your item window.
Return to the lobby, and...
Edit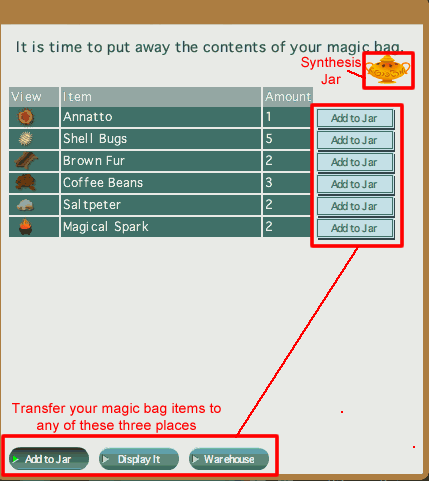 Contents of the Magic Bag are automatically displayed when you return to the lobby. At this point you must do one of the following to each item:
Add it to your Synthesis Jar
Display it in your Item Window
Store it in the warehouse.
Click the Synthesis Jar icon in your Magic Bag window to see the contents of your Synthesis Jar.


When you close the Magic Bag window, all of its contents are deleted. To avoid deleting items, either display them, add them to the jar, or store them in your warehouse.
Ad blocker interference detected!
Wikia is a free-to-use site that makes money from advertising. We have a modified experience for viewers using ad blockers

Wikia is not accessible if you've made further modifications. Remove the custom ad blocker rule(s) and the page will load as expected.