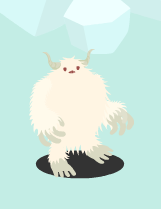 Locations
Life Points
Attacks and Damage
Normal Attack: 1
Jump/Dash Attack: 1
Cold Breath Attack: 2 (Freezes for ~1 minute)
Elemental Resistance
Light/Ice
Elemental Weakness
Fire (approximately 1.4 times)

Dropped Items
Notes
This monster has thick skin, all attacks are reduced by 50%, monster also has an ability to jump at you moving fairly quickly, its best to use any obstacles to block him for you while you charge up any turbo attacks.
It goes slow, using bows are recommended.
Ad blocker interference detected!
Wikia is a free-to-use site that makes money from advertising. We have a modified experience for viewers using ad blockers

Wikia is not accessible if you've made further modifications. Remove the custom ad blocker rule(s) and the page will load as expected.